Spring Wind through the Peach Trees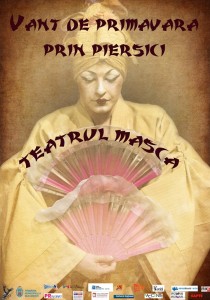 Images, sensations, a flutter of silk scarfs, silence, joyful laughter, a very mysterious world, which attracts and fascinates the public. A world in which the spirit has a profound understanding of the world and where beauty is always held in the highest esteem. With its exoticism, the Chinese culture is fascinating through its beautiful simplicity, its wisdom regarding life and the splendor of the ballet which every life creates.
The Chinese traditional theatre has three big representative styles: shadow puppetry theatre, classical puppet theatre and Chinese opera. From these three, the closest style to Masca Theatre is the shadow puppetry. The movement and the rhythm of our actors are very much like the impressive images created through the Chinese shadow technique. There is also a great likeness between the shows of the Masca Theatre and the Chinese opera, due to the combination of music and powerful drama. Last, but not least, the make-up as a mask is another element in common with the traditional Chinese theatre. So, we are inviting you in this magical land of the Rising Sun, where people are always smiling and where, in Spring, the gentle breeze touches the fragrant peach-tree flowers.
Cast:
"Waiting" – Anamaria Pîslaru
The Dragon – Eugeniu Fetescu
"Spring Wind Through the Peach Trees" – Dora Iftode, Cristina Panait, Laura Dumitraşcu-Duică
Lyn, the Turtle – Amalia Popa
 "The Sword Dance" – Alina Crăiţă
Taijiquan (The Three Red Chinese People) – Ioana Rufu, Massimiliano Nugnes, Robert Poiană
The Terrcotta Soldiers – Sorin Dinculescu, Nicolae Pungă
The Fisherman – Alexandru Floroiu
Confucius – Valentin Mihalache
Creative team:
Writer and director—Mihai Malaimare
Costumes and production design —Sanda Mitache
Music—Razvan Diaconu, Lu Wei – Spring comes and goes
Choreography – Mirela Simniceanu